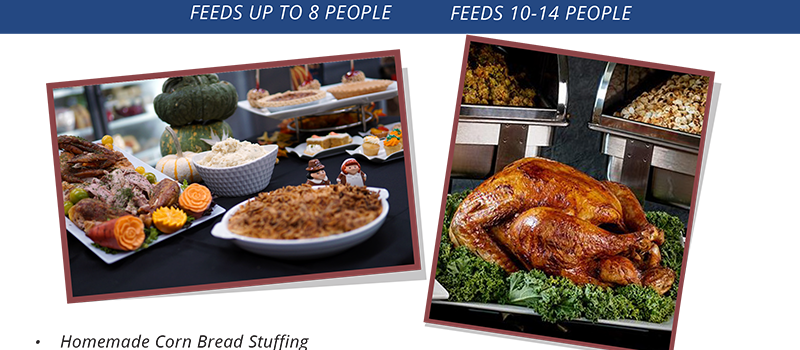 Exquisite Catering by Robert Announces Holiday Menus for Delivery
Popular caterer offering a traditional Thanksgiving Feast and Latin Holiday package
(North Miami) – Exquisite Catering by Robert, a premier corporate and events catering business serving Miami-Dade, Broward and Palm Beach counties announced its 2020 menus for Thanksgiving.  It has been delivering tasty holiday meals for years but expects a busier season this year with more people staying at home and having more things to worry about than cooking a large meal.
"Gatherings will definitely look different from any we have seen before, but different doesn't have to be viewed as a bad thing," said Robert Egert, owner of Exquisite Catering.  "It's a way to innovate new ways to connect with friends or family. This year, we want to help make those celebrations more special than ever."
Exquisite Catering has prepared a Thanksgiving Feast that can be picked up or delivered right to one's door.   The menu features an herb-roasted turkey served with a variety of side dishes, including: homemade cornbread stuffing, whipped mashed potatoes, baked sweet potatoes with marshmallow topping, green bean casserole, and Exquisite's freshly made cranberry orange relish.  .  People will have the option of adding on a dessert such as pumpkin pie, apple pie or apple/cherry cobbler or a Honey Baked Spiral Sliced Ham for an extra cost.
A Latin Holiday menu features Stuffed Pork Tenderloin or Roast Pork Lechon served with Imperial Rice, Moro, yucca with garlic sauce, and sweet plantains.  Desserts are an extra cost and include:  flan, tres leches or pastelitos.
Both dinners come with fresh-baked rolls and butter, soda, ice and paper goods and costs $169 for up to eight people and cost $269 for a group between 10 and 14.
"There's no need to spend hours in the kitchen basting a turkey or checking the temperature of the stuffing; you can utilize all that extra time to spend with the loved ones at home with  you," Egert said.  "You could also send that same meal to your friend, cousin or coworker across town, and then video chat at dinner time over the mouthwatering turkey and delicious sweet potato casserole."
Those interested in placing an order for a Thanksgiving meal package,  please call 305-622-FOOD (3663) or send an email to info@exquisitecatering.com  People can also visit www.exquisitecatering.com/exquisite-thanksgiving/ for more information.  All Thanksgiving orders must be placed by Tuesday, November 24th for delivery or pick up. 
About Exquisite Catering by Robert:
Exquisite Catering is a premier catering company that serves South Florida businesses and nonprofits and plans special events of all sizes. The company offers a broad menu of gourmet food for any occasion with professional service and attention to detail. Based in North Miami, Florida, the company was founded in 2007 by Robert Egert who honed his catering skills working a home-grown Italian restaurant brand for nearly two decades.   For additional information, visit www.exquisitecatering.com.