Exquisite Catering Turkey Feast – 2022
Thank your for your orders and Happy Thanksgiving. As of 11/18/2022 the Exquisite Catering Turkey Feast is completely sold out.
Let Exquisite Catering by Robert prepare your 2022 Thanksgiving Holiday Family Meal for you and your loved ones. Spots are filling up quickly, so make sure to place your order by Friday, November 18th, 2022.
This exquisite turkey feast includes a whole carved herb roasted turkey and much much more. Only $249 for up to 8 people or $349 for 10-14 people. Applicable taxes and delivery not included.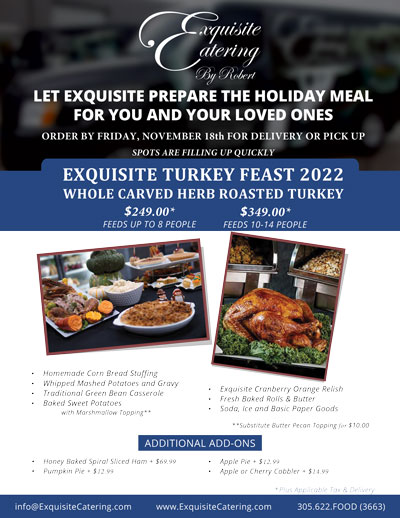 Robert and his staff will work with you to put together your ultimate Turkey-day spread, featuring food from our holiday favorites menu. The main star of the night will be our oven-roasted off the frame turkey, which is carefully cooked to perfection and served over mouthwatering homemade stuffing. Looking to opt for a different main course? We have a variety of additional options including honey baked spiral sliced ham, or even a fish alternative.
Side dishes can be just as important, which is why we have savory selections that you're sure to love. From our home-style green bean casserole to our baked sweet potatoes with marshmallow topping and everything in between, we have something for everyone here at Exquisite. Don't forget other Thanksgiving favorites like our exquisite cranberry orange relish and homemade corn bread stuffing, which pair perfectly with warm rolls and butter.
Of course, no Thanksgiving spread is complete without some sweet treats! Ou   freshly made pumpkin and apple pies and apple or cherry cobbler are heavenly. If you're looking for additional options, our versatile dessert menu will not disappoint. Our cookie, cake, pastry, and fruit displays are simply amazing. No matter what you choose, Exquisite Catering's delectable desserts will be a favorite amongst your guests.
Make sure to share any dietary restrictions or preferences with us so that we can do our best to accommodate to you and your guests' needs. We're here to take the stress out of holiday prep, and will work with you to make everything as easy as possible. We will cook your ideal menu and provide what you need, including drinks and silverware. This holiday season, focus on spending time with loved ones and let Exquisite Catering do the work. Both pick-up and delivery options are available.
Spots are filling up quickly, so make sure to place your order by Friday, November 18th, 2022.  Place an order online or speak with our staff today. 305-622-FOOD (3663) or email us at info@exquisitecatering.com. We can't wait to hear from you!