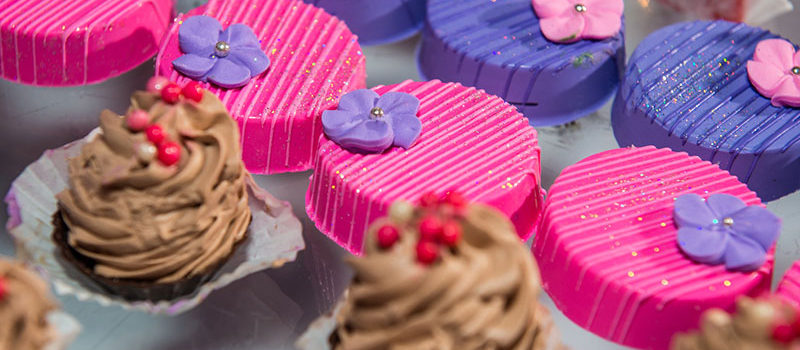 Will You Be Our Valentine? Exquisite Catering Valentine's Day Ready
Will You Be Our Valentine? Exquisite Catering Valentine's Day Ready
How sweet it is to be loved by- Exquisite Catering! We have what you need to create the ultimate Valentine's Day filled with sweet and delicious food, drinks, and more. Just tell us what you need, and we'll do the rest.
Begin the day with love and tasty treats with breakfast in bed, featuring items from our delicious breakfast menu. Yummy belgian waffles, freshly baked pastries and cinnabon buns, coffee, and more!
If you're opting for a romantic dinner, we've got you covered. Indulge in our delicious menu which includes a large variety of options, from our mouthwatering NY strip steak in a burgundy mushroom demi-glaze, to our perfectly cooked Cajun seafood carbonara with lobster.  Our Italian favorites are another great option for your perfect dinner for two, with options ranging from chicken francaise with whipped potatoes to homemade eggplant parmesan.
Indulge in our decadent dessert menu, featuring our rich chocolate mousse or red velvet cake, brownies and mini cheesecakes,  cookies and more. Add some chocolate covered strawberries and wine, champagne, or cocktails for a nice touch. And what's Valentine's Day without some roses? Exquisite Catering has beautiful floral decor available to create the perfect ambiance for your date night.
Exquisite Catering hasn't forgotten about the younger members of your family! We offer family meal specials perfect for a nice, at-home dinner. Finish celebrating the day with love- and sweets! We have Valentine's Cookie Decorating Kits that you can make with your family.
Celebrate love while enjoying amazing catering by Exquisite Catering! We're here to make your day as memorable as can be. Contact us today to see how we can create the ultimate Valentine's Day menu for you!
Call us today at 305-622-FOOD (3663) or email us at info@exquisitecatering.com to place your order.